i've started and stopped 8 (maybe 9? 10?) separate blogs since 2012.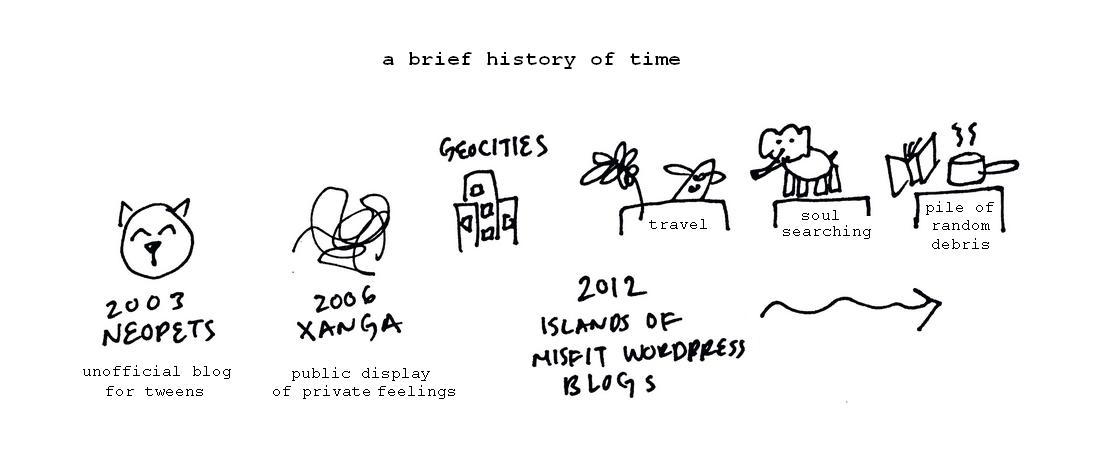 i've lost track of the unposted stories, abandoned domain names, and sites with one lonely post. i've attempted travel blogs, book review blogs, food blogs, quirky life philosophy blogs, public journals, technical blogs – even a xanga*.
some of those blogs died because a trip came to a close, or out of laziness, or out of boredom. a lot of those blogs died due to a lack of conviction in what i had to say.
5 year olds, and children in general, have a peculiar way of speaking to each other. they say sweet, profound things without meaning to. they often say mean, embarassing things without meaning to.
"honesty" might be the word i'm looking for. when we get older the unfiltered truth becomes peculiar, almost jarring, because it becomes more uncommon. we judge ourselves, and others, for the things we say, and our opinions and beliefs become self-censored.
sometimes, this creates a more inclusive, safe environment. sometimes, it doesn't serve ourselves or others.
so here begins my 11th(?) attempt at hello world. i'm doing so because:
i love to write. when i was young, i had two loves: words, and math. i've really missed writing (and doodling dumb comics).
i have things i want to say. connection happens when we are a little more transparent about our journeys in learning how to be a human. i'd like a platform to share tiny (and big) things i've learned, both technical and life-related.
i want to get better. writing is a skill. sharing is a skill. teaching is a skill. i'd like to get better at all three.
keeping posts short and simple, albeit a little general for now – excited to see this amorphous pile of thoughts take shape.
*for those of you too young to remember, xanga was the OG blogging platform. #throwbackthursday